The Study of A Long Distance Relationship
I was going from point A to point B - driving.
It was a long distance drive -13 hours.
The view was of a mountainous landsape and
was very enjoyable. It was nice because there
was some distance between us. The distance
made it difficult for me to see the details of
the mountains, but their presence was still
close enough. It distracted me from the road
a bit. I couldn't see the mountains clearly.
I couldn't tell the difference between
imagination and illusion either.
Do you know that feeling of being physically
close to something but emotionally distant?
And what about the feeling that you are in a
relationship with something so far away that
you can't really see what it is? And what do
you mean when you say 'distance', anyway?
As I was driving, I also noticed that the
landscape looked even more attractive when I
was on the move. Maybe it was a combination of
1) a nice view, and 2) a nice feeling - that
you're getting closer to something.
However, the view from where I want to be
will never look like the view that I see
along my way there.
And if you've done a long distance drive,
you must be familiar with this one illusion
where the road ahead of you become
a hallucination. You perception is distorted
and the road warps away into the distance.
This happens when you fix your eye on forward
motion for too long. When you're stopped by
a red light, the brain fails to understand that
you are no longer moving.
During the day, there's the time when the sun
makes its transit into a challenging position.
Your sun visor can't shield you from sunlight.
And when it gets in your eyes, it hurts.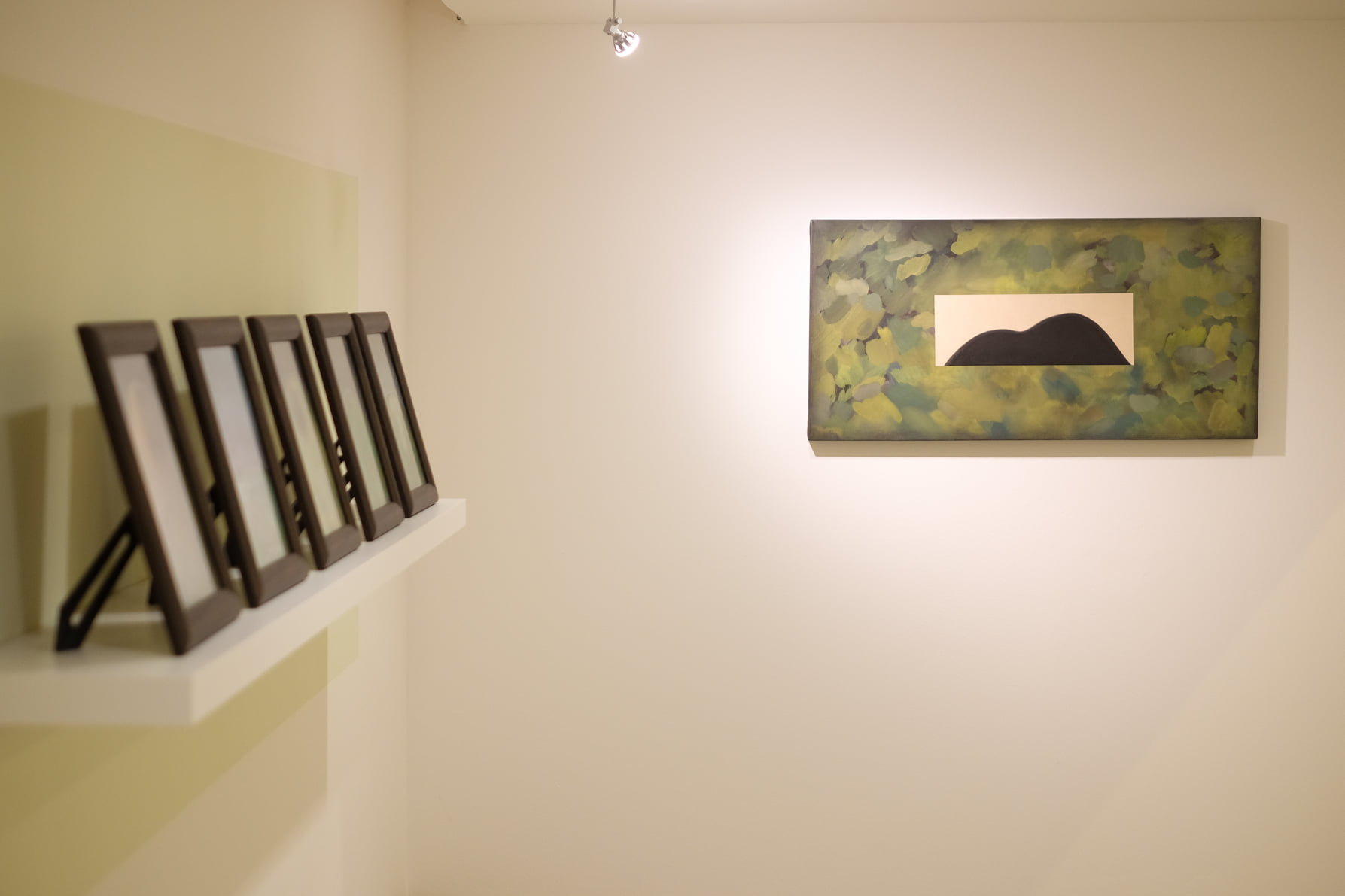 photo: Tempat Ketsomboon
LDR - Mountain and Sun

colored pencil on paper, 151 x 81 x 3 cm, 2020

LDR - Moving Mountain no.1
saw dust, wood, metal, oil and pencil on canvas, size variable, 2020
LDR - Green Depth Map
oil on canvas, paper collage, pencil, 100 x 100 cm, 2021
LDR - Mountain Scroll
oil and pencil on canvas, 425.5 x 43 cm, 2021
LDR - Through Space and Time
colored pencil on paper, wood, photo frame, 102 x 67 x 1.8 cm, 2020
LDR - Bedscape
a set of 4 photos, IKEA shelf, photo frames, 190 x 18.3 x 26 cm, 1 editions+ artist proof, 2021


LDR - Terra Incognita


oil on linen. drawing on paper, paper collage, wood cornice, 222 x 158.5 x 1 cm, 2021






LDR - Stereogram
silkscreen print by The Archivist, photo frame, 60 x 43 cm, 25 editions+2 artist proof, 2021
LDR - SE


oil, pencil, paper collage on canvas, a set of 9 paintings (40.5 x 30 cm each), 2010






The Study of A Long Distance Relationship

tiger balm, glass bowl, wood, IKEA shelf, ceramic tiles, typewritten text on paper, photo frame, paper maché, size variable, 2021





LDR - Road to Mountain


drawing on paper, oil and pencil on canvas, 70 x 100. x 2 cm, 2021
LDR - Moving Mountain no.2
drawing on graph paper, leather paint, old sofa, wheels, size variable, 2021
LDR - Family Portraits
oil and color pencil on paper, photo frame, IKEA shelf, 249 x 97 x 30 cm, 2021
LDR - Greeneries


acrylic, oil and paper on canvas, 100 x 50 x 4 cm, 2021




LDR - Fridge Magnets


pencil drawing on paper, paper clay, magnets, acrylic, size variable, 2020






LDR - Pink
model tree, pencil on paper, photo frame, paper clay, 18.7 x 16 x 2 cm, 2021







LDR- Untitled

oil painting on linen, nails, 59.7 x 19 x 1.5 cm, 2021




LDR - Orange Depth Map
oil patinting on canvas, paper collage, 70 x 100 cm, 70 x 100 cm, diptych, 2021




LDR - BW
pencil, graphite, ink on paper, wood, velvet, 2019